Mr R supported us with 1 ticket

Ms G supported us with 1 ticket

Mr B supported us with 3 tickets

Mr G supported us with 1 ticket

Mr L supported us with 2 tickets

Mx H supported us with 1 ticket
---
2d 13h 53m

21 May 2022
---
Winner! Mrs W (WORCESTER)

Won 3 extra tickets!

Winner! Mx K (WORCESTER)

Won 3 extra tickets!

Winner! Mrs F (WORCESTER)

Won 3 extra tickets!

Winner! Miss E (Worcester)

Won 3 extra tickets!

Winner! Mrs C (WORCESTER)

Won 3 extra tickets!
About Worcester Community Fund:
Worcester Community Lottery is a weekly lottery that directly supports local good causes and community initiatives.
Lotteries are a fun and effective way for causes to raise much-needed funds in these difficult times. By getting more people on board, they don't just raise funds, they also raise awareness.
When you play the Worcester Community Lottery you know that 60% of your ticket price goes to good causes (more than DOUBLE what the National Lottery gives) AND the money raised is going to good causes that benefit your local community.
Proceeds generated from this page go into a general good cause fund administered by Worcester City Council.
This will be distributed at the end of the financial year to all the good causes registered on the website in proportion to the number of tickets they have sold during the year.
You can find out how the council allocate grants to local good causes via their website:
https://www.worcester.gov.uk/small-community-grants
If you would rather support a specific good cause then you can search for a good cause here.
Help us share our cause on social media
How the lottery works
That's right, unlike many other lotteries, our lottery tickets are only £1 per week.
50% to your chosen cause and 10% to other causes in Worcester.
Match all 6 numbers and you win the JACKPOT!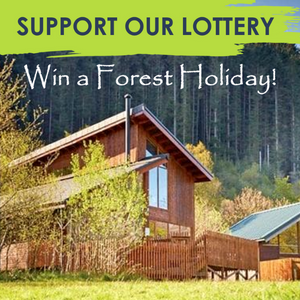 Win A £1000 Forest Holiday
Ever want to get away from it all? Well here's your chance - get your tickets before 25th June for your chance to win a fabulous Forest Holiday to the value of £1000! Choose from 12 different locations throughout the UK.