Mx B supported us with 2 tickets

Mrs L supported us with 1 ticket

Miss S supported us with 1 ticket

Ms R supported us with 5 tickets

Mr W supported us with 5 tickets
---
2d 14h 10m

21 May 2022
---
Winner! Mrs W (WORCESTER)

Won 3 extra tickets!

Winner! Mx K (WORCESTER)

Won 3 extra tickets!

Winner! Mrs F (WORCESTER)

Won 3 extra tickets!

Winner! Miss E (Worcester)

Won 3 extra tickets!

Winner! Mrs C (WORCESTER)

Won 3 extra tickets!
About us
Chestnut Community Action Group (CCAG) provides a much loved and valued non-political community outreach and engagement group of local residents.
CCAG works alongside existing groups such as the Arboretum Residents' Association and Worcester Canal Group. We actively promote a cohesive approach to embracing the community, environment and the cultures within.
We raise awareness and actively encourage and support sustainability and environmental awareness. We do this within the incredible, diverse and historic area of the Arboretum while supporting charities in the broader city area.
The projects support causes such as ASPIEs and the Worcester Foodbank. This is achieved by involvement in, and support of, the fun, educational, social, engaging and supportive mix of projects and groups within the area.
We need your help so we can continue to offer and even expand our services of all-inclusive, community projects!
Thank you for your support and good luck!
Yours sincerely,
Ian Mackey (for and on behalf of) CCAG

----
Email: [email protected]
Twitter: @CCAGWorcester
Web: http://ccagworcester.com/
Facebook: https://www.facebook.com/groups/CCAGWorcester/


Help us share our cause on social media
How the lottery works
That's right, unlike many other lotteries, our lottery tickets are only £1 per week.
50% to your chosen cause and 10% to other causes in Worcester.
Match all 6 numbers and you win the JACKPOT!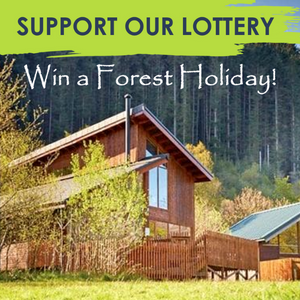 Win A £1000 Forest Holiday
Ever want to get away from it all? Well here's your chance - get your tickets before 25th June for your chance to win a fabulous Forest Holiday to the value of £1000! Choose from 12 different locations throughout the UK.